From the 25th of October 2021, London's ULEZ will expand to cover most of the capital. Any cars, not ULEZ, will have to pay £12.50 per day to drive their cars within the newly defined ULEZ ones after this date. This could see owners of cars registered from 1982 could have to cough up £650 a year to drive their car just once a week.
The extension will now cover the area within the A406 North Circular and A205 South Circular roads. This is a massive blow for owners of many vehicles in London, but classic car owners will feel particularly hit by this extension. While cars over 40 years old are exempt, anything younger will be charged.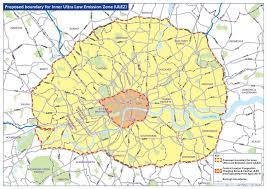 What is ULEZ?
ULEZ stands for Ultra-Low Emissions Zone. The central London ULEZ was launched in April 2019. The aim of which was to improve air quality within the area. Vehicles that do not meet the ultra-Low emissions have to pay the charge. There is no exemption for residents, and it operates 24 hours a day, 7 days per week.
Petrol vehicles must have Euro 4 emissions standards and diesels Euro 6. The charge is £12.50 per day for cars and £100 per day for lorries, buses, and coaches. The scheme was deemed a success.
Six months after the launch of the original ULEZ was introduced, Alex Williams, Transport for London's Director of City Planning, said: "The introduction of the ULEZ this year was a significant moment for Londoners' health, as the evidence of its first six months clearly shows. Nearly four out of every five vehicles now entering the zone meets the tough emissions standards, reducing harmful NO2 pollution by almost a third. The early evidence suggests that the ULEZ is not only encouraging people to use cleaner private cars, but also to use more sustainable alternatives such as walking, cycling and public transport. The ULEZ is also helping to reduce its impact on climate change – with an estimated reduction of road-based carbon dioxide by nearly 100,000 tonnes."
Expansion of ULEZ Detrimental to Classic Community
Not only will this affect classic car owners living within the zone, but it will also affect the community as a whole. Classic car meets within the area will be stung and will likely have to relocate their events to somewhere else not affected by the new emissions targets.
Waterloo Classics has held informal car meets for classic owners behind Waterloo station. They have already decided to move to avoid the charges.
'I moved our start point for drives to Battersea Park, but now I'll probably end up starting events in Dulwich,' says founder Darren Sullivan Vince.
'I would say that at least 30 to 40 percent of our cars will be caught in the ULEZ zone now, and I know some people have decided to change their fleets, getting rid of the cars that don't comply.'
Despite the fact, classic car owners don't tend to use their modern classic or retro ride as a daily, even a mere use of 1 outing per week will result in a large annual bill of £650. The scheme is also backed by a scrappage scheme offering £2,000 to people scrapping their non-compliant vehicle for a new car.
Scrappage schemes in the past have seen considerable reductions in older cars from the streets of Britain, with many Eighties and Nineties cars lost. This new scheme brings further worries of losing some of our car heritage to the crushers.
The monitoring of ULEZ is automated and conducted by a network of 1,400 cameras across the capital. Motorists entering ULEZ areas have 24 hours to pay the £12.50 charge, or they'll receive a £160 fine in the post (this will be reduced to £80 if paid within 14 days).
Will Other Areas Follow London?
Birmingham has already announced a daily charging zone which will come into effect in June. It will cover all roads with the A4540 Middleway Ring Road with ineligible vehicles receiving an £8 daily charge.
Leeds, Nottingham Derby, and Southampton are also planning to introduce their own lower emission zones. There are fears that the entire country could one day follow suit, confining classic cars to the scrapyard, museums, or garages to be looked at instead of enjoyed.