The car community's mood is probably at an all-time low with more uncertainty about 2021 events and meetups due to Covid. It's not all doom and gloom though, 2021 marks the birthday of some special classic cars.
From modern classic cars marking their 20th birthday to some old-timers hitting half a century or more. We take a look at some of the vehicles celebrating this year, with quite a few cars turning 60 this year, 1961 was a great year for cars!
Ford Zephyr – 70th Birthday
The Ford Zephyr was first unveiled at the Earls Court Motor Show in 1950. It went into production in 1951. The Zephyr was an extended version of the Ford Consul. Available as a 4-door saloon, estate, and 2-door convertible the car was produced here in the UK at the Dagenham factory. The Zephyr's claim to fame came in 1953 when it won the Monte Carlo Rally beating a Jaguar Mark VII. The Zephyr enjoyed a respectable production run of twenty-one years with four iterations.
Alpine 110 – 60th Birthday
The Alpine A110 was launched in 1961, although the majority of its fame didn't come till the early 70s when it became a successful rally car. Alpine cars used numerous Renault parts, with parts for the A110 coming from the R8. Renault eventually bought out Alpine in the 70s and have recently reimagined this classic car with a modern-day version.
Volvo p1800 – 60th Birthday
I don't think there's ever been a cooler Volvo than this, my ultimate dream car. The project actually began in 1957, when Volvo decided they wanted a sports car for the European and American markets. At points, it looked like the car may never come to fruition. Thankfully, in 1960, it was unveiled at the Brussel's Motor Show in January 1960, finally launching in September 1960 for the 1961 model year, technically making its birthday September 2020. This car was made famous in 1962 when it became the vehicle driven by character Simon Templer in The Saint, played by future James Bond Roger Moore.
Jaguar E-Type – 60th Birthday
None other than Enzo Ferrari described the E-Type as the most beautiful car ever made. Huge praise indeed, but warranted, even by today's standard this car is stunning. It was unveiled at the Geneva Motor Show in 1961 causing a sensation. It even undercut its competitors on price, causing a sensation.
Rolls Royce Corniche – 50th Birthday
The elegant Corniche which was released in 1971 was based on the Silver Shadow saloon. It was available as a two-door coupe and a stunning convertible which was a head-turner. This luxury car was powered by a 6.75-litre V8 engine making it a gas guzzler. The coupe version ended production in 1980, but the convertible enjoyed a longer run, finally ending production in 1995.
DeLorean DMC-12 – 40th Birthday
While the DMC-12 was controversial and plagued with problems, it was immortalised in the Back to The Future series of movies. With gullwing doors and a brushed stainless-steel body, this car certainly looked futuristic. This car was the dream of its creator who had previously worked for General Motors, leaving to produce his vision, ultimately costing him his reputation. He was charged with drug trafficking in a bid to try and get himself out of the debt incurred by his dream and save his car. However, he was not found guilty, but DMC had to declare bankruptcy in 1984.
Bugatti EB110 – 30th Birthday
The EB110 was unveiled on what would have been founder Ettore Bugatti's 110th birthday; September 15th 1991, hence the name EB110. This car was way ahead of its time, designed by Marcello Gandini who also designed the Lamborghini Diablo and Countach. With four turbochargers and a 3.5-litre V12 engine, this all-wheel drive vehicle packed a punch. Only 139 EB110's ever left the production line making it the rarest car on this list.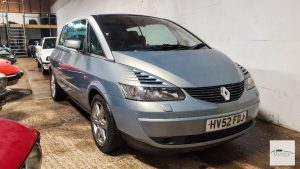 Renault Avantime – 20th Birthday
The youngest of the bunch, this rare Renault was launched in 2001. The name was fitting translating to 'ahead of its time', but the car was like marmite, you either loved or loathed it. Personally, I love this car, which was based on the Espace. Only 8,557 Avantime's were ever produced in its short two-year production run. The vehicle found some form of notoriety when Top Gear featured it, Jeremy Clarkson even stuck it on the sub-zero section of the cool-wall declaring it a fantastic car he adored. More famously though, the team adapted the car and tried to make it faster than a Mitsubishi Lancer Evolution X around the track.