With the move to electric powertrains, many car manufacturers are looking to the past to ease us into this new era of automobiles. Renault has previously teased us with a reboot of their popular hot hatch, the Renault 5. But the Renault 4 is also up for reboot in 2025, which brings us on to this, the AIR4.
To celebrate the 60th birthday of the Renault 4, which sold 8 million units during its time in production, Renault decided to do something a little different. Instead of merely teasing us with a rendering of the 21st Century Renault 4, they decided to show us something even more futuristic.
This is AIR4 which, as the name suggests, can fly! We have long imagined the future of travel to be in the sky's, like the Jetsons. Whilst the year 2k may not have brought this sci-fi prediction to life, Renault has taken us one step closer.
Renault says that the AIR4 is designed for the roads of the future that are visualised to be in the air", adding that it "provides an innovative insight into how the Renault 4 could look in another 60 years".
"After a year-long celebration, we wanted to create something unconventional to close up the 60th anniversary of 4L," said Arnaud Belloni, Renault marketing boss. "This collaboration with The Arsenale was a natural fit. The flying show car AIR4 is something unseen and a wink to how this icon could look like in another 60 years."
Instead of sitting atop four wheels, the Air4 sits in the centre of a frame that has two propellers at each corner. Making it looks more drone than car. The driver lifts the front-hinged shell to gain access to the vehicle, which is powered by 22,000mAH batteries.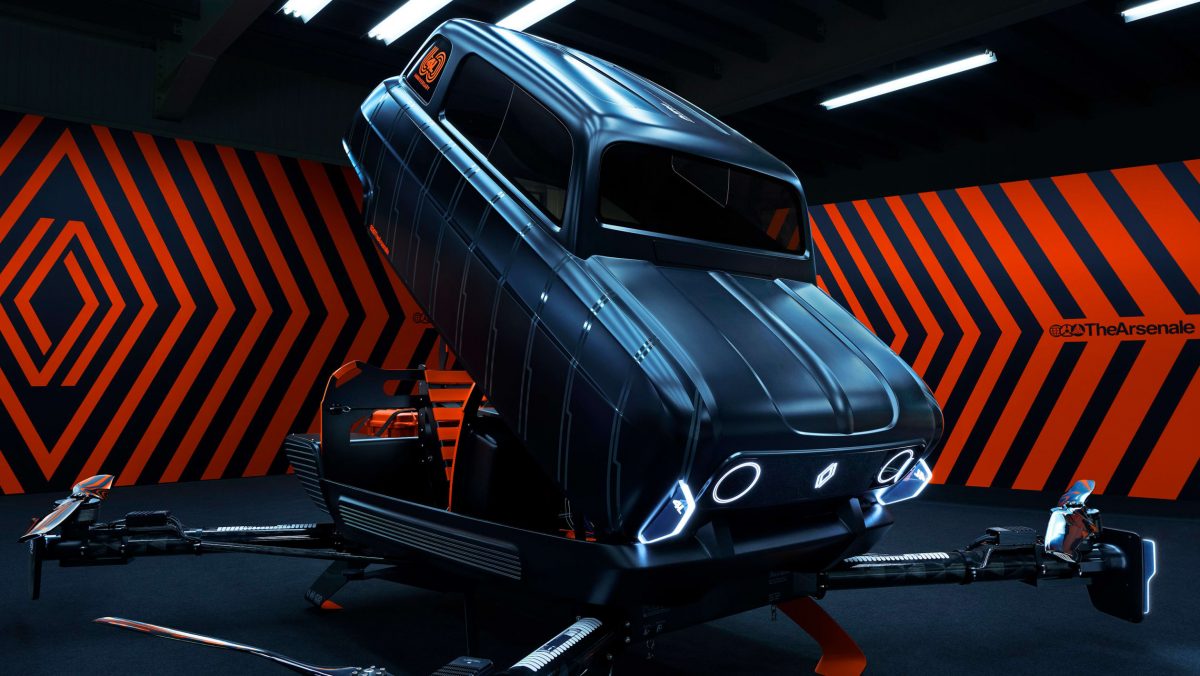 The AIR4 can reportedly fly up to 700m and has a take-off speed of 14m per second! For safety reasons, this has been restricted to just 4m per second, though. Renault says this car has a top horizontal speed of 58mph and can tilt up to 70 degrees in flight.
This car could be the future of travel in another fifty years or so, which could make the humble Renault 4 a symbol of the future, being that it's now going to become an EV. As one of the original 'people's cars, it's certainly earned its place in motoring history.
This car bears much resemblance to the original, with a body shape and lines that are distinct to the French motor. This version, however, has a carbon fibre body. The interior has been described as utilitarian, but we have yet to see what it looks like.
The AIR4 will be going on display until the end of the year at Atelier Renault Museum in Paris. It will then do a short tour and be shown in Miami, New York and Macau next year.