The final countdown is on, with only days left until Christmas have you got all your gifts? If you've been scratching your head wondering what to buy for a classic car enthusiast then perhaps this little list can help.
We have compiled a list of 10 great Christmas gifts for a classic car enthusiast below.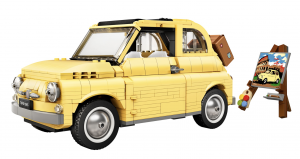 Lego Cars
Lego produces a range of vehicle kits to keep the classic car enthusiast busy over the festive period. There's the Fiat 500, a 1985 Audi Sport Quattro, a James Bond Aston Martin DB5 and even a VW T1 bus. These toys range from sub £20 in price to £129.99 for the James Bond vehicle. There are hours of endless fun to be had putting these together and the satisfaction afterwards is immense.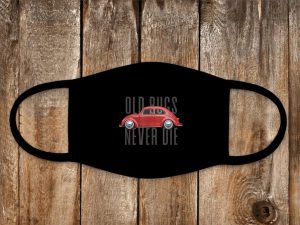 Face Masks
It's the compulsory accessory of 2020, but why wear a boring face mask when you can have a mask that demonstrates your passion? Etsy has a range of cool classic car masks made with love. Whether you love Mini's, BMW M Series, Golf GTI's or Beetles there is something for everyone.
The pictured VW Beetle face mask can be found here.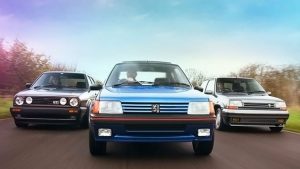 Driving Experience
What could be more fun than a classic car driving experience? Red Letter Days have offered experience packages for years now and are one of the best-known companies offering fun experiences.  Know some that loves 80s hot hatches? The Triple Legend Hot Hatch Experience is reduced at the moment and a bargain in our opinion! There is a large range of experience from the iconic E-Type to The Italian Job Ultimate Driving Experience.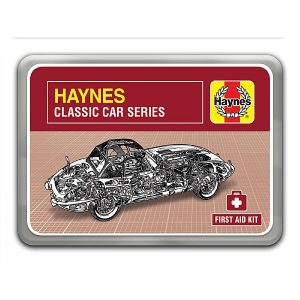 First Aid Kit
For the tinkerer that's forever cutting themselves how about a Haynes Classic Car Series first aid kit? It contains 2x non-adherent wound pad, 1x conforming bandage, 1x first aid scissors, 1x adhesive tape (hypoallergenic), 10x un-coloured plasters, 2 x hypoallergenic plasters (1.5″ square), 2x elbow/knee hypoallergenic plasters (3×2″), 16x printed hypoallergenic plasters in printed card envelope, 2x burn shield gel sachets, 2x antiseptic wound wipes, 10x rust-resistant safety pins in a bag, 1x pair of disposable gloves. All of this comes packages in a cute little tin that should fit in the glove box.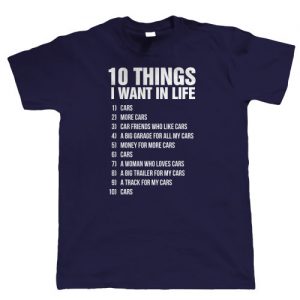 10 Things I Want in Life T-Shirt
How about a t-shirt that conveys just how much they love cars? The 10 things I want in life top fits the bill. With a choice of 4 colours and sizes ranging from small to 5XL, this t-shirt should fit any classic car enthusiast and for only £13.99 it won't break the bank.
Fuzz & Tim's Classic Car Care Kit
Car SOS is probably the best classic car TV show in the UK by far, according to the many that voted for it in our social media polls. You can't go wrong with the gift of a clean car, especially when it has Tim & Fuzz's name on it. The kit by Autobrite contains: 2 x Microfibre towels, 2 x Foam Applicators, Soft Wash Mitt, Wash 'n' Wax Car Shampoo – 250ml, Trim & Tyre Gel Dressing – 250ml, All in One Polish/Glaze/Wax – 250ml and smear Free Glass Cleaner – 250ml.
Classic Car Mug
How about a classic car mug? Perfect for a cuppa while they're out tinkering with their pride and joy. This mug from The Leonardo Collection is available on Amazon Prime so it has the added bonus of swift, free delivery! This mug depicts some fine British classics.
Wooden Model Kit
If plastic bricks aren't for them, then a wooden model kit could be a good alternative. This Ugears U-9 Grand Prix Wooden Model Kit is a beautiful model classic Grand Prix racing car made completely from wooden parts. No glue is required, the pieces fit together like a jigsaw puzzle. This model is powered using a rubber band engine!
Model kits make a great Christmas gift for a classic car Enthusiast because they provide entertainment tinkering.
3D Night Light
This 3D Illusion Night Lamp in the shape of an American classic car could be the perfect gift for an American classic car enthusiast. An acrylic desk lamp that has been laser cut for a cool grid-like finish. This lamp can be picked up off Amazon and delivered quickly if you have Amazon Prime.
The Ultimate Classic Car Quiz Book
The Ultimate Classic Car Quiz Book is a great little paperback for any classic car fan. It contains facts, trivia and statistics. With 150 multiple-choice questions, the book also contains the answers and tells the story behind them. This book is great for the inquisitive, or the know it all and only costs £8.
We hope this list of Christmas gifts for a classic car enthusiast gave you some ideas and helped you bag a last-minute pressie for the classic car lover in your life. If you can think of anything else add it to the comments on our social media post to help out fellow gifters this festive season.