Camper vans have long appealed to people who like to hit the road and enjoy the beauty of nature. A home away from home, they allow for cooking and sleeping wherever you are. Now, Nissan has upped the game and revealed a concept vehicle fit for the Covid era. Could you use an office campervan?
The office Pod is an adapted version of the Nissan's NV350 Caravan which has been available in Japan since 2013.
Working from home has become the new normal over the last year, with remote working set to continue way beyond the current pandemic. Companies have realised the benefits of allowing employees to work remotely, reducing their overheads and cementing remote working as a mainstay.
The Nissan Office Pod takes remote working to remote locations, allowing owners to hit the road and work against the backdrop of a beautiful view if desired. It even comes with a modified Cosm chair by US furniture-maker Herman Miller.
You can choose to work in private inside the vehicle with ambient lighting and electric shades to shield monitors from glare or with a quick tap of an app the rear of the vehicle can extend with a shaded office. This extension allows occupants to enjoy the fresh air, while still being shielded from glare.
The roof even doubles up as a space to relax under a parasol. Nissan really has thought of everything for this concept vehicle which also houses a UV antibacterial light in the glove box to sanitise.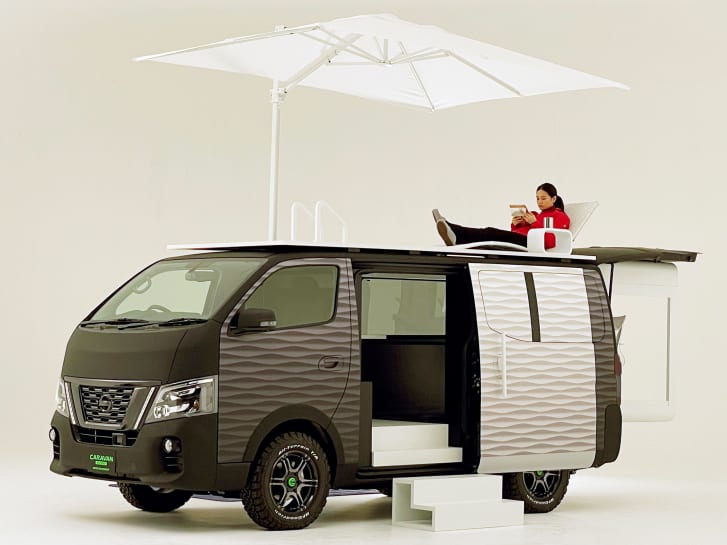 Nissan said in their press release for the concept vehicle:
"For the past year, (the) coronavirus pandemic has significantly accelerated the work-from-home trend, and many office workers are now having a variety of issues working home, Nissan wants to solve these issues by giving those workers more choice of where and how they work."
Of course, this office campervan is merely a concept vehicle which offers solutions to a very current problem. Nissan has no plans to put this vehicle into production in the immediate future. Instead, they will consider making some modified parts available to NV350 caravan owners.
Is this a glimpse at the future of motorhomes though? With a growing shift towards remote working, other manufacturers may start considering their own mobile office pods, which could allow people to enjoy the benefits of fresh air and being in nature while completing their work. The benefits to mental health could be immense!
We'd love to hear your thoughts on this mobile office in the comments.  Check out the video below.